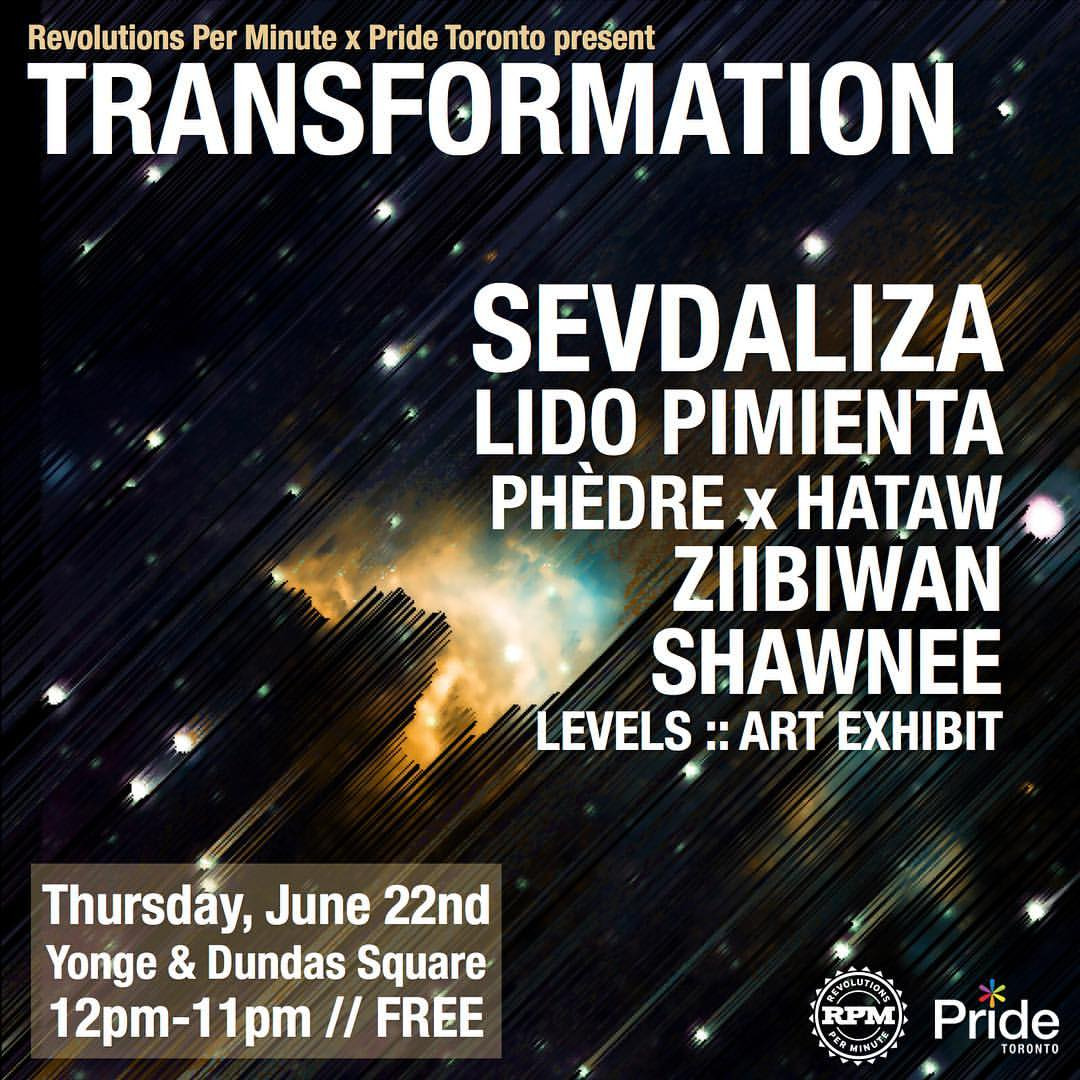 I made a video flyer and going to play live visual for the event.
Thanks Revolutions Per Minute and Pride Toronto!!
Revolutions Per Minute and Pride Toronto presents
Transformation: Indigenous & Borderless Sounds
2017/06/20 Thursday
Yonge-Dundas Square, Toronto
16:00 – 23:00
FREE
Witness Yonge-Dundas Square transformed by installation, performance, and visual artists into an outdoor visual artistic landscape with the common theme: "Levels," which features creative and interactive projects of LGBTQ+ artists from Toronto and beyond.
Following the exhibit, Revolutions Per Minute—an Indigenous global new music platform, label, and artist collective—will present a curated lineup of music blending Indigenous and global sounds.
Making her Canadian debut is genre-bending, Iranian-born, Rotterdam-based vocalist SEVDALIZA, who brings blends of electronic, triphop, grime, and the avant-garde. Supporting her will be interdisciplinary Afro-Indigenous artist Lido Pimienta, along with a blended balance of melted pop, complex soundscapes, and Filipino folk-dance by Phèdre x HATAW. Two-spirit rebel soul Shawnee Music takes the stage, following a live set by RPM Records' Anishinaabe electronic artist Ziibiwan.
4pm – Levels Art Exhibit
6pm – Shawnee
7pm – Ziibiwan
8pm – Phèdre x HATAW
9pm – Lido Pimienta
10pm – SEVDALIZA
ASL interpreted event.
Accessible event.
MORE INFORMATION
Facebook Event Page
---